EDGI NZ team and collaborators take the stage at international conference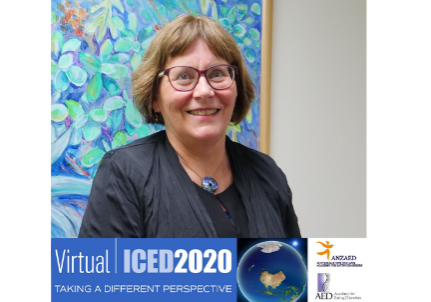 In line with what is rapidly becoming the "new normal", this year's International Conference on Eating Disorders (ICED) is running virtually from June 11 to 30. Participants joining the 2020 conference or accessing content afterwards, will hear about the latest eating disorder research, treatment and best practices.
Over the next few weeks, members of our wonderful EDGI team and our collaborators are taking the virtual stage at ICED, presenting four papers and one poster this year. The papers report "hot off the press" preliminary analyses from the 'Costs of Eating Disorders in New Zealand' study (the COSTS study). The COSTS study team, headed by Dr Jennifer Jordan, involves EDANZ and others in our network of collaborators from the Anorexia Nervosa Genetics Initiative (ANGI) study who are still involved with EDGI.   The COSTS study was designed to give those with eating disorders and carers of people with eating disorders the opportunity to report on their experiences.   Stay tuned for a five-part blog series which will give you insights into the fascinating findings presented by our research team.
The research presented at this year's ICED is a testament to the team's longstanding commitment to making a genuine contribution to the diagnosis, management and treatment of eating disorders, both locally and internationally.
Check out today's insight into ICED 2020 below.
Who Completes an Online Survey about Eating Disorders?
This poster, presented by Dr Jennifer Jordan, Senior Lecturer at the University of Otago and co-Lead Investigator for the New Zealand arm of EDGI, considers the issue of who chooses to participate in online eating disorder research.
Even with proven data that eating disorders affect anyone, of any gender, or cultural background, preliminary findings from this study reveal that despite efforts to increase diversity, those who have volunteered for the 'Costs of Eating Disorders in New Zealand Study' to date have been mainly young females with anorexia nervosa (AN) of Caucasian background. EDGI researchers are nonetheless, dedicated to finding better ways to appeal to minority groups, in order to increase the application of their research findings.
Stayed tuned for the next instalment of our five-part blog series featuring insights from our team at ICED.
Identification of the genes that predispose individuals to eating disorders will revolutionise future research into causes, treatment, and prevention of the illness.
To help the EDGI team to identify the hundreds of genes that influence a person's risk of developing anorexia nervosa, bulimia nervosa and binge-eating disorder, head here to volunteer for EDGI.
If you suspect that you, or a loved one, may be living with an eating disorder, reach out to your general practitioner without delay.
Should you need to talk to a trained counsellor about any mental health issue, contact the 1737 helpline; free call or text 1737 or visit www.healthpoint.co.nz/mental-health-addictions/mental-health-addictions/1737-need-to-talk