Youth support worker & nature lover who waged a decade-long battle with anorexia nervosa, together with her twin, AUCKLAND
Youth support worker and nature lover, Maddie, 24, Auckland, saw her twin hospitalised with anorexia nervosa before also succumbing to the devastating eating disorder at just 14 years of age.
Likening anorexia nervosa to "having your soul extracted from your body", Maddie and her twin sister Libby relapsed on multiple occasions post- their initial diagnoses, which turned both their, and their parents lives upside down.
Now in a job that allows her to help others, Maddie currently feels strong enough to publicly share her arduous journey with anorexia nervosa, and to encourage other New Zealanders with experience of eating disorders to participate in the Eating Disorders Genetics Initiative (EDGI), in a bid to transform thousands of lives for the better.
This is Maddie's story.
Given her special bond with her twin sister Libby, Maddie was both shocked and distraught while watching her sister's health seriously decline from eight years of age.
Soon after, Libby was diagnosed with anorexia nervosa, and subsequently hospitalised on many occasions.
"I just wanted to help Libby with what she was going through. So, I was quite shocked when I too, started to develop similar symptoms to Libby, at 14 years of age.
"Initially, I thought it [my illness] was just about the food. But I later came to realise that I was dealing with a mental illness and issues of self-worth and self-perception," said Maddie.
"I've always been a perfectionist, but I let that part of my personality dominant me, and I didn't channel it in a conducive way to my health and well-being. I felt like nothing I did was ever good enough, even when I was receiving the highest grades and scholarships at school.
"Fortunately, we had an established relationship with our Regional Eating Disorder Service in Auckland at the time, due to Libby's journey, and that allowed me to access their support," Maddie said.
Maddie likens anorexia nervosa to the Dementors in Harry Potter, who come out of the darkness to diminish one's soul from their physical body.
"Living with anorexia nervosa left me feeling numb, vulnerable, fragile, feeble and worthless. I felt like every bit of life had been drained out of me. All of my beliefs and values changed because I was so entrenched in the tantalising grips of anorexia nervosa.
"I was compelled to withdraw from university on two occasions for two different degrees, due to the rapid deterioration of my illness," said Maddie.
"Even when I felt liberated and empowered to go travelling independently around the globe at the age of 22, I made the decision to come home early as I knew that I was in the depths of a serious relapse, due to a lack of routine, the essence of relaxation and unfamiliarity. I knew that if I did not arrange flights home early, that I would either not be safe enough to fly or would not have made it home at all."
Fortunately, Maddie and her twin have supported each other through their darkest moments.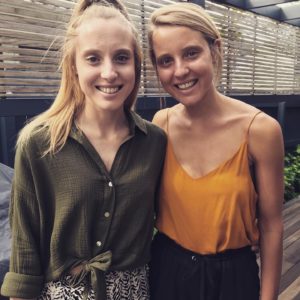 (L – Libby, R – Maddie)
"Although we've encountered incredibly different experiences of anorexia nervosa, which has been accompanied with depression, anxiety, self-harm and OCD propensities, we consistently support one another in a way no other person is able to wholly comprehend.
"We share our personal experiences on social media, and it's amazing how many people reach out in response; expressing their gratitude towards inspiring them to disseminate their individual journeys of mental illness, and thank us for inspiring them on particularly tough days," Maddie said.
"I feel so lucky that I can help others, without this being a trigger for me. I've learnt so much in my life thus far. I wish to continue connecting with others, not only to assist them and provide a listening ear, but to unite everyone through mutual understanding and respect."
Given their family's devastating experience with anorexia nervosa, both Maddie and Libby are passionate participants in the NZ arm of the Eating Disorders Genetics Initiative (EDGI) – the largest and most rigorous genetic investigation of eating disorders ever performed.
"I feel blessed to have been diagnosed with anorexia nervosa because I've been introduced to many amazing and beautiful people along the journey. I embrace and cherish myself and the life I am traversing. However, I would never wish it upon another to experience the relentless illness that myself and many others battle against.
"Anorexia does not discriminate and is all powerful. Yet, I have realised that we can learn to regain the controls of our lives, to be the conductor of our own symphony and not be orchestrated by anorexia nervosa. There is a hope. Life does exist and is worth living!"
"The insights and validation that will come from this important EDGI study will be absolutely critical to those with a genetic predisposition to eating disorders. This research could revolutionise treatment for eating disorders, and improve so many lives," said Maddie.
"I urge anyone with experience of an eating disorder to volunteer for EDGI. Participating in this study will not only help you to heal, but also help others who are struggling with eating disorders now, and into the future."